About Jamie
I am a freelance supply teacher, private tutor and outdoor education instructor based in Oxford.
I read Physics at St Anne's College, Oxford, graduating in 2000. I remained at St Anne's whilst taking my PGCE at the Department of Education, and then took up a post as a teacher of Physics at John Mason School, Abingdon, in June 2001, which I held for ten years. I quickly gained a reputation both as an excellent classroom practitioner (frequently rated as outstanding in observations and inspections) and a strong disciplinarian. I was co-opted onto the school's senior cover rota during only my second year in post, and promoted to Educational Visits Coordinator at the beginning of my third year.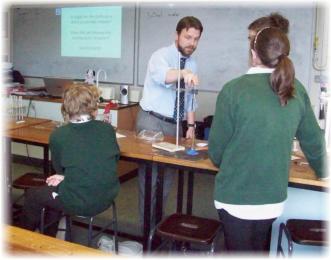 During my 8 years as EVC I oversaw an ambitious redevelopment of Troedrhiw, the residential centre in Mid Wales owned by John Mason School, bringing it up to date whilst retaining its essential character and ethos. During this redevelopment I equipped it as an observatory with thirteen telescopes, creating a valuable and extremely unusual resource for the teaching of cosmology.
My work as the head of educational visits tied in neatly with my interest in outdoor education. I took up climbing whilst at Oxford, joining the Oxford University Mountaineering Club. I have served on OUMC's committee five times and remain an active member of the club. I've climbed in all parts of the UK, the French and Swiss Alps, Norway, Morocco and the Himalaya, and have recorded new routes in Skye, Cornwall, and Morocco.
Looking to connect my work as a teacher with my interest in the outdoors, I qualified as a climbing instructor in 2007. This was a natural progression from my involvement with novices in the club, and my interest in teaching beginner climbers remains very strong.
By the summer of 2010, I began to feel in need of a new challenge in my career. I had spent some time as acting Head of Physics at John Mason, saw the new KS4 and KS5 Physics and Science courses bedded in, and, crucially, I had completed the critical redevelopments of Troedrhiw. It felt as if several of my major projects had all come to a close, and I also felt that I had amassed the skills and experience I needed to strike out as a freelance. I left the school at the end of the academic year 2010-11, and am currently thoroughly enjoying the challenge of building up the different areas of my business.
Outside of climbing and teaching, I am a keen amateur photographer (shooting Leica M and Epson rangefinders and Pentax SLRs). I'm an enthusiastic if haphazard allotmenteer, and am slowly renovating the house my wife and I bought several years ago.