Climbing instruction for individuals and groups
UPDATE - As of January 2023, I'm unable to take on any climbing clients at the moment. I'm working on opening a new climbing wall in central Oxford and this is taking up every spare minute I have! Gallery Bouldering is planned to open in August 2023 and I will be returning to working with climbing clients then.
As a holder of the MLTUK's RCI (Rock Climbing Instructor) award, I am able to offer rock climbing and abseiling instruction to individuals and groups. I have a particular interest in taking beginners from their first climbing experiences (either on an indoor wall or outside) to the point where they are competent at seconding experienced leaders, and ready to begin leading climbs for themselves.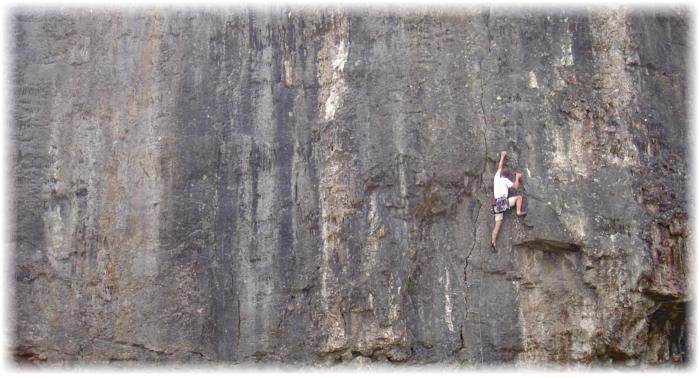 My preferred locations for instructing are the Peak District (trad and sport on limestone and gritstone outcrops) and Portland (sport limestone cliffs). Indoors, I typically use Rock Solid at Brookes University.
Why learn to climb with me?
Experience: I've been climbing for more than twenty years and passed my SPA assessment in 2007. Through climbing with the OUMC I've had a vast amount of experience in introducing new climbers to the sport, and my combination of being an instructor and an experienced teacher gives me an insight into how people learn new skills.
Personalised instruction: I will take the time to get to know who you are and what you want to get out of your time with me, and will arrange to meet with you to discuss this beforehand if appropriate.
Convenience: unlike most instructors, I include transport (in a large and comfortable car) between your house and the climbing location. If there are more than four in your group I can arrange hire of an MPV or minibus at cost. My fees for outdoor instruction are fixed regardless of the number of people in your group. Although I can obviously offer a more personalised service with fewer people, I find that working with two or three clients can be more effective as a learning experience than with one alone.
My prices include transport from Oxfordshire to the crag, climbing equipment, harnesses and helmets:
| No of Days | Price |
| --- | --- |
| 1 | £200 |
| 2 | £300 |
| 3 | £400 |
| 4 | Contact me |
Depending on the season and the weather, a day ranges from 5 to 7 hours on the crag. Please note that for multi-day outdoor instruction, camping and food costs are not included (I generally use Hardhurst Farm for camping in the Peak District, which has a good pub nearby for evening meals and an excellent cafe for breakfast). I have spare tents I can bring if necessary.
My prices for indoor instruction are £50 per 90 minute session (one or two clients) and £60 per 90 minute session (three or four clients). This includes your entry price to the wall and all climbing equipment and harnesses. Contact me for prices for larger groups.
Block bookings: if you book any outdoor session with me, I'll deliver up to three hours instruction at Rock Solid beforehand at 25% off these prices.
I don't have a stock of rock shoes for clients to use; they're available for hire at Brookes, and aren't really necessary for your first experiences outdoors (though if you want to buy a pair I'm more than happy to detour to a local climbing shop on the way and advise you on your choice).
I also offer a comprehensive introductory ropework course - Ropework 101 - which has been developed over many years working with new climbers from the OUMC. It's a nine hour course, delivered in three three-hour sessions, for up to six participants. It's designed to take you from your first steps as an indoor climber, and covers all of the ropework needed to become a competent outdoor climber; it covers belaying, abseiling, building sport and trad anchors, problem-solving and basic self rescue. I often joke that this course is 'everything I wish they'd told me when I was starting out!' I offer R101 for £360 - for a six-person cohort that's less than £7 per hour for a truly comprehensive course.
I hold £5M liability insurance through my membership of MLTA. I recommend clients take out personal liability insurance, perhaps by joining the BMC directly or via an affiliated club, and also consider taking out accident insurance.
For more information or to make a booking, contact me.
Please also read the BMC participation statement before making any bookings.