Supply Teaching
I am available as a supply teacher. I take bookings directly with no agency involved. I'm payable directly through OCC at UPS3. I hold an enhanced CRB certificate.
I'm happy to take advance bookings for supply work, and will also respond, if I can, to emergency bookings the night before or (if I've worked at your school before) the morning of the day you need me. I am willing to consider requests for part days pro rata, but I'm not accepting bookings for long-term (e.g. maternity) cover at the moment.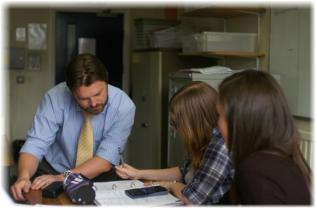 I am a specialist in physics, and can take physics classes to A-level standard and laboratory-based practical science lessons to GSCE. I'm also obviously very happy to cover any subject you need me for.
I have an excellent record in classroom management (indeed, I began carrying out senior cover duties in only my second year of teaching) and my years of experience mean I have a strong presence in the classroom. I have a good record in formal observations and my exam classes have generally had high positive residuals.
As I am highly experienced in running school trips (having been an Oxfordshire EVC for eight years), if your cover requirements are due to a school trip, you might like to consider engaging me to accompany your visit in order that your own staff can remain in the classroom. I hold an Oxfordshire LEA minibus licence and an up-to-date two day REC first aid certificate.
To make a booking, or for more information about the fuss-free, reliable and high standard cover I offer, contact me.